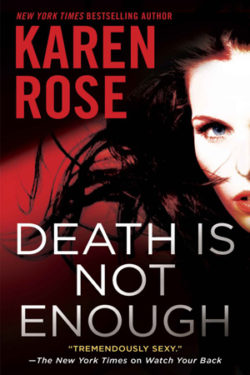 Author

Karen Rose

Release Date

October 2, 2018

Publisher

Berkley

ISBN/ASIN

B078VWFHFG

Our Rating

Reviewed by

BPoston
Our Review
Karen Rose is the master of writing novels that have complex characters and such thrilling plots. DEATH IS NOT ENOUGH is the story of Thorne and Gwen. Thorne is a very successful defense attorney, and Gwen is his business partner and the woman he deeply cares for.  
Gwen has spent several years healing from a horrible incident in her past, which has made her gun-shy of getting involved with a man. As she begins to date again, she finds out Thorne is derailing her plans by scaring off her potential dates. When she goes to confront him, she finds him in his apartment covered in blood with a dead woman beside him in bed. Have I gotten your attention yet?
This book is so suspenseful, I couldn't put it down! Thorne, Gwen, and their friends go on a journey that is an unexpected but awesome roller coaster ride. I found myself holding my breath as they try to unravel the puzzle of who is trying to destroy Thorne and wondering if they'll get away with it. DEATH IS NOT ENOUGH is an awesome, suspense-filled read!
Recommended Read