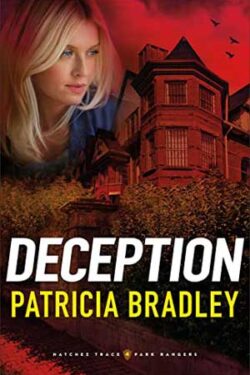 Author

Patricia Bradley

Release Date

August 2, 2022

Publisher

Revel

ISBN/ASIN

9780800735760

Our Rating

Reviewed by

book lover
Our Review
DECEPTION by Patrica Bradley is book 4 of the Natchez Trace Park Rangers series.
Ranger Madison Thorn (in the Violent Crimes unit for the Investigative Services Branch) is forced to kill an FBI agent gone rogue in self-defense. After the shooting, she moves to the Fraud and Cyber division. Her latest assignment is a white-collar crime investigation in Natchez, Mississippi that turns violent. She's forced to work with park ranger Clayton Bradshaw.
The investigation takes a decidedly strange turn when a woman who looks just like Madison is attacked on the same night Madison's grandfather is shot. Before Madison come to grips with her grandfather's shooting, she finds herself a target. 
I really enjoyed DECEPTION with all its twists and turns that were unique and interesting, but I was frustrated that obvious bad guys were overlooked time and again. But even so, I couldn't put the book down and recommend it.