Definitions of Indefinable Things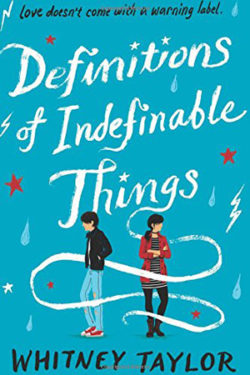 Author

Whitney Taylor

Release Date

April 4, 2017

Publisher

HMH Books for Young Readers

ISBN/ASIN

B01I4FPKW0

Our Rating

Reviewed by

Mandy W
Our Review
DEFINITIONS OF INDEFINABLE THINGS is a story about two depressed teenagers as they struggle to find happiness and love. Reggie is a depressed teenage girl who meets Snake at a pharmacy while they both pick up their depression meds. These two lonely souls strike up an unlikely romance that is challenged by the fact of a pregnant girlfriend. Filled with betrayal, hopelessness, and ultimately love, this story is about two teens struggling to find any meaning in life.
I always like to read books about mental illness because I don't feel like the general public really understands these types of issues. Depression was shown relatively well in this book, but at times it could have been shown better. It is difficult to portray these types of struggles realistically though, because they differ with each individual. I can only hope this book might bring some awareness to even one person who didn't understand depression.
The characters were the driving factor in this story. Regime's character changed a lot through the course of this novel. While I wouldn't go so far as to say that she overcame her depression, I think she learns to cope with it. She grows and starts to make friends and tries to find bits of happiness. Her relationship with Snake is actually a healthy one, not a codependent one like you would expect from two people who both struggle with mental illness.
The romance is sweet. It might not have started in the best way, but these two teenagers slowly begin to bring out the best in each other. Theirs is a romance that builds slowly and faces all sorts of struggles. I really enjoyed this novel with its quirky characters and its portrayal of depression. DEFINITIONS OF INDEFINABLE THINGS is a cute, Young Adult romance that brings awareness to mental illness.