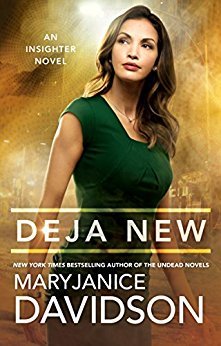 Author

MaryJanice Davidson

Release Date

November 7, 2017

Publisher

Berkley

ISBN/ASIN

9780425270417/B06WRWD3KS

Our Rating

Reviewed by

Michele Rioli
Our Review
The latest imaginative, entrancing entry in the INSIGHTER series, DEJA NEW is engaging and entertaining. Be patient, dear reader, for everything has a purpose in Ms. Davidson's second novel. Leah Nazir, a beautiful, gifted lady can see into the past lives of her patients. Her handsome fiancé, Archer Drake has family problems and they head to Chicago. What weird turn of events lurk back at home?
Archer's family meets Leah for the first time and his sister, Angela, is some what impressed, since she is an Insighter too. Leah learns that there is an age-old murder, pent-up feelings, and weird family dynamics going on, which causes an air of heightened emotions. Angela hopes Leah and Archer can help her untangle the chilling murder of her Uncle Dennis years ago by their father who is still in jail. Then, Angela meets a detective interested in the case, Jason Carpenter, who revs her motor. Ooh baby! Wait, Angela has a fetish for socks and notices that Jason has an eclectic mix. She is totally infatuated now and Jason is smitten with her quirkiness. What a wacky pair but they gel! However, brothers, cousins, Angela, Archer and a wacky mother are at odds with one another. What a wild mess! Will they ever unravel what really happened years ago? Then an unknown adversary tries to undermine their case. Will Angela be able to handle everything?
DEJA NEW is a great deal of fun trying to unravel a murder perpetrated in the past. What's better than zany in-laws and a murder you didn't commit? A madcap plot, quirky characters, a sneaky romance and the magic of one author blends into one enigmatic story. It will take Angela, the glue holding the Archer family together, time and energy to sort through all the past puzzle pieces. Angela and Jason fall for each other but former mistakes hold them back. Will they struggle through them together or will they part ways?
There are perplexing plot twists that keep you guessing and many references to the past and present. I wondered how everything would connect together. Ms. Davidson does a brilliant job bringing everything full circle but still leaving some loose ends for the next book. Ms. Davidson's trademark saucy humor is sprinkled throughout the novel. So much fun! Shocking events, romance with sizzling chemistry and the circle of life are explored in DEJA NEW. This series is kick-butt tough as ever!