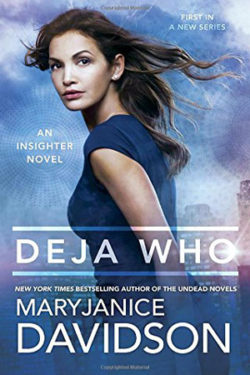 Author

MaryJanice Davidson

Release Date

September 6, 2016

Publisher

Berkley

ISBN/ASIN

9780425270394

Our Rating

Reviewed by

Michele Rioli
Our Review
Reincarnation? Bah! Yep, it's real, definitely not new and even better yet, it's interesting. Interesting in the sense of, who will you meet next? Leah Nazir, brutally honest, efficient, as well as impossibly pretty, is an Insighter. She is a therapist, do-gooder of sorts, and she seeks out reincarnated felons, bringing them to justice. But, here is the kicker, Leah is one of them! Only she is a victim, as in, been killed, been dead, done that, over and over again. Ouch!
In this lifetime Leah meets a charismatic P.I. named Archer Drake. He is hired by Leah's mom to check on and watch her. Only, Archer ends up aiding and abetting Leah. His unassuming charm and scruffy looks rattle Leah. Still, as appealing as he is, Leah's common sense tells her to trust no one, because her crazy killer is a wolf in sheep's clothing. Anyway, Archer is crushing on Leah. There is no denying that the attraction travels both ways. Does Leah's bitter, cold heart thaw out enough to let Archer's amorous love in?
DEJA WHO is eerily creepy and inexplicably, intensely intriguing. When Leah Nazir, an Insighter, meets with reincarnated murderers at her office, her life is repeatedly in danger. She has been wiped out numerous times, but she comes back, more tenacious than ever, to expose her shocking slayer. Leah is one fascinating babe but her intricate layers are beginning to unravel.  A gritty hunk, Archer Drake, P.I., is hired and put on Leah's tail, but they become a team as danger creeps in closer and closer still… Who can it be? Will Leah be murdered again?
Brisk pacing, knife-edge danger, heart-pounding, chilling suspense with compelling, complicated characters and a surprising romance, all mix together into one electrifying story! Ms. Davidson is an incredibly talented writer. I love all her books and this new series promises to be outstanding! Scary, explosive and captivating, DEJA WHO will snare you into its tangled web and won't let you go! Brain scrambling fun!  
A RECOMMENDED READ!