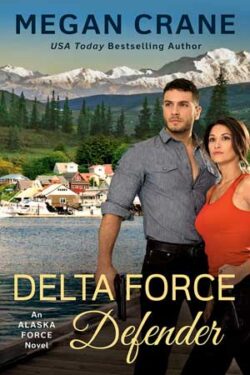 Author

Megan Crane

Release Date

July 7, 2020

Publisher

Berkley Books

ISBN/ASIN

9781984805522

Our Rating

Reviewed by

Jo
Our Review
DELTA FORCE DEFENDER is the fourth book in the ALASKA FORCE series, and I'm glad it's not the last since SPECIAL OPS SEDUCTION is due to be released in January. This is Isaac and Caradine's story, and it held my interest from the first page to the last.  The story is packed with action, adventure, and romance. The series revolves around the Alaska Force, their significant others, and the people of Grizzly Harbor.
The prologue takes place ten years earlier in Boston and gives us background on Caradine and her family. My skin actually crawled with some of the descriptions of their shady activities, even if Caradine thought it normal and could laugh about it!
We crisscross the country from Alaska to Maine, to Hawaii and Boston before returning several times to Alaska, where Alaska Force is based. Isaac learns some truths about himself as well as about Caradine.  I liked the way that the members of Delta Force and the others interact but also have each others' backs whether part of the team or not.
The story focuses on relationships and their boundaries. Caradine is sometimes a one-woman show, grating against Isaac's comfort level. But she tries to stay true to herself no matter what the danger. I liked the closure she was given along with her sister that was a long time coming.  
The author does a wonderful job describing the different locations, the scenes detailed and graphic in their telling. There is closure on many fronts and a few happily ever afters in this book.  
Ms. Crane, who also writes as Caitlin Crews, is one of my top go-to authors of stories with an edge or a little more than a contemporary romance. I look forward to reading more of her books.