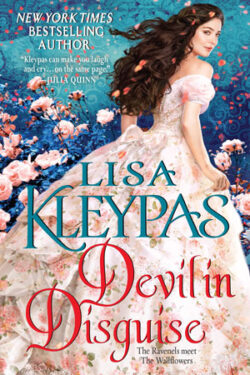 Author

Lisa Kleypas

Release Date

July 27, 2021

Publisher

Avon and Harper Voyager

ISBN/ASIN

9780062371966

Our Rating

Reviewed by

Raonaid
Our Review
Keir MacRae is a Scottish whisky distiller. He arrives in London to distribute and sell his wares. Keir never expected to be so attracted to the shipping company's widowed owner. He soon finds himself plagued by several assassination attempts. The last leaves Keir seriously wounded. While recuperating, with Lady Merritt's help, he learns some unsettling truths about his birth. Can Keir accept the new revelations about his life? Will he find out who is trying to kill him? And why?
Lady Merritt Sterling is the eldest child of an earl and his American countess. She, with the help of her brother, runs her late husband's shipping company. Merritt's world is turned upside down when an angry Scotsman storms into her office. Keir wakes something deep inside her. When he is injured in an accident, Merritt offers to tend him. Danger follows the man. Can Merritt and Keir overcome their social standings?  Or will the threats against his life keep them apart?
Keir is my new favorite. Many times, the man made me want to swoon. Keir reminds me of a certain blonde-haired devil who will forever hold a spot in my heart. I like the fact that Keir has chest hair. It is something I rarely see romance heroes having, so it is a nice change. What I adore the most about Keir is his thoughtfulness towards Merritt's reputation. He never wanted his actions or his association with her to hurt her. Keir always put Merritt's wellbeing above his own.
I could not contain my giddiness when I discovered who Merritt's parents are. She is a beautiful mixture of the two. I like how Merritt values her employees' health and safety over profit. She understands they are the backbone of her business, so she makes sure they get the latest safety equipment and procedures to insure their wellbeing. I also like how Merritt got her name. It is an unusual name for a female. What I adore the most about Merritt is how she refuses to let any man dictate her life. She is a woman who knows her own mind, thanks to her mother's tutelage.
DEVIL IN DISGUISE is book seven in Lisa Kleypas' historical romance series, THE RAVENELS. The story can easily standalone. However, I highly recommend reading the prior six books and the author's THE WALLFLOWER series. The two are intertwined. I love that Sebastian and Evie, from DEVIL IN WINTER, and Lillian and Marcus, from IT HAPPENED ONE AUTUMN, show up, and play a part, in the story.
I cannot get enough of Sebastian and Evie. I always squee in delight when the two appear in THE RAVENEL books. I adore seeing how their love continues to thrive, even after their story. They are still my favorite couple ever in romance books.
DEVIL IN DISGUISE is a captivating tale of two people from different social stations bridging the gap to be together. I hope the author considers writing more stories with the Wallflowers' children. I want more Hunts, Marsdens, and Challons!
A recommended read.