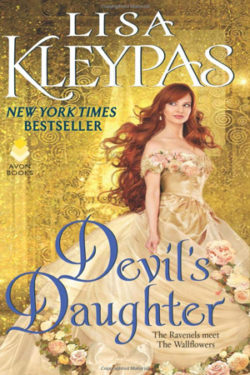 Author

Lisa Kleypas

Release Date

February 19, 2019

Publisher

Avon

ISBN/ASIN

0062371932

Our Rating

Reviewed by

Raonaid
Our Review
Widow Phoebe Larson, Lady Clare, is the daughter of Evangeline, a shy wallflower, and Sebastian, Lord St. Vincent. While attending her brother's nuptials, she encounters her late husband's childhood bully, Weston "West" Ravenel. Phoebe does not want to like West, but she cannot resist the man's charismatic charm. When she needs help managing her son's estates, she turns to West for help. Can Phoebe entice West to take a chance with them?
West works as his older brother's estate manager. He hopes to atone for all of his past misdeeds. At his cousin's wedding, West meets Lady Clare. He cannot help but be intrigued by the kind-hearted widow, yet he feels the lady is far above him. When Phoebe asks for his land management expertise, West drops everything to assist her. Can West let go of his mental demons to be with Phoebe? Or will his past stand in their way?
Phoebe is a wonderful mixture of her parents. She inherited Evangeline's compassionate nature but Sebastian's steely strength of will. I adore how hands-on Phoebe is with her sons' care. Unlike most aristocratic ladies, she does not rely solely on servants to raise them. What I like most about Phoebe is her ability to let past grudges lay. She starts out with preconceived notions about West, yet those opinions change once she realizes he's no longer the cruel boy who bullied her late husband.
West is such a swoon-worthy hero. He proves that it is possible for a person to turn their lives around. I like how West is not afraid to work alongside his brother's tenants and servants. He prefers manual labor over leading an indulgent life. I love how West encourages Phoebe to take a more active part in her son's estates. He does not share in the old-fashion belief that a woman has no head for estate management. What I adore the most about West is his interaction with Phoebe's sons. He has no intention of replacing their late father, but he enjoys spending time with them. In a way, I see it as karmic recompense for bullying their late father.
DEVIL'S DAUGHTER is book five in Lisa Kleypas' historical romance series, THE RAVENELS. This story also collaborates with DEVIL IN WINTER, book three in the WALLFLOWER series. I adore revisiting with Sebastian and Evangeline again, especially their beneficial role in this book. It's nice to see what type of parents and grandparents they became.
DEVIL'S DAUGHTER is a sweet tale of overcoming one's past to embrace the future. I cannot wait to learn who will win the last unwed Ravenel's hand.
A recommended read.