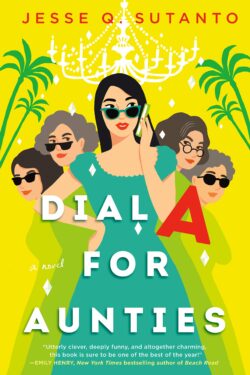 Author

Jesse Q. Sutanto

Release Date

April 27, 2021

Publisher

Berkley

ISBN/ASIN

9780593333037/B08JKM7JCC

Our Rating

Reviewed by

Michele Rioli
Our Review
DIAL A FOR AUNTIES is a madcap comic mystery starring Meddelin Chan, a pretty girl who unexpectedly zaps her blind date into oblivion. Her mother, along with her nosy, interfering Asian aunties fix things, sort of. Working around an Asian curse, the aunties sass back and forth, trying to outdo each other, as to the best way to conceal a corpse. What ensues is a slapstick comedy of errors as the Chan family gang together to aid Meddy in her quest to hide a body. They have a catering, makeup, wedding cake business and are working at the wedding of the year at an exclusive island resort. One little problem, the body is carted onto the island in a cooler unexpectedly by Chan's helpers. Eek!
Plus, Meddy runs into her boyfriend from college, her soul mate she broke up with years ago, who is now the manager of the resort. This is going to be a disaster! How will she hide a body, flee a murder rap, and carry out a dazzling, impressive wedding all in one fell swoop? One angsty mother and three meddlesome aunties to the rescue! Will Meddy win back the love of her life too?
If you like goofy family relationships, absurd situations, and snap-crackling humor, DIAL A FOR AUNTIES is right up your alley! I was filled with giggles as Meddy, her mother and aunts try to sneakily hide a man's body. He was Meddy's blind date from hell who she bumped off by accident, while escaping his evil intentions. Oops! The Chan family is all heart, even with their constant bickering, as they band together to help each other out. Ms. Sutanto does a fine job of delivering an amusing, adventurous, action-packed, comical, stunner of a story! This book is going on my keeper shelf for sure! Grab your favorite cocktail, settle in for a spell, because DIAL A FOR AUNTIES is unputdownable!