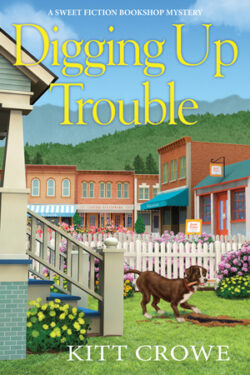 Author

Kitt Crowe

Release Date

October 12, 2021

Publisher

Crooked Lane Books

ISBN/ASIN

B08SW844PV

Our Rating

Reviewed by

book lover
Our Review
DIGGING UP TROUBLE by Kitt Crowe is a Sweet Fiction Bookshop Mystery set in Confection, Oregon. It's a fun cozy mystery that has something for everyone.
Lexi Jones, manager of the Sweet Fiction bookshop, and her dog, Cookie, are out to find who murdered her neighbor—the crankiest, most cantankerous man in all Confection. Assisting her search are her best friends, her uncles, and the Macaroon book club. 
The list of suspects is long and there is plenty of motive to go around between the coveted Central Oregon Gardener's purse, worth $15,000, to the mysterious treasure map that has someone digging up roses all over town 
DIGGING UP TROUBLE has it all, a cast of quirky characters, murders to solve, and a hint of a maybe romance between the heroine and her high school crush, or will it be the hunky detective? The mystery kept me up late to find out whodunit. A totally fun read!