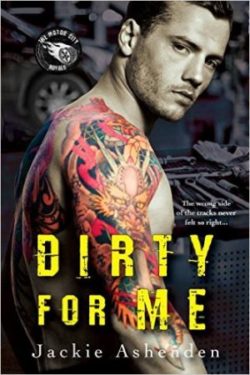 Author

Jackie Ashenden

Release Date

July 26, 2016

Publisher

Kensington

ISBN/ASIN

9781496703903

Our Rating

Reviewed by

Chrissy Dionne
Our Review
Tamara Eliot was not looking for a 'hook up' when she accompanied a friend to a seedy side of town for a self-defense class. Her future's carefully mapped out – work at her father's company, marry the man her parents deem acceptable, and live in the lily white surroundings that demonstrate her family's wealth.  Maybe that's what's so appealing about Zee Chase, the self-defense teacher, he's tattooed, makes no apologies for his rough edges, enjoys underground fighting – and likes sex, raw, untamed and undeniably hot.  He has a small makeshift family on Royal Road where he lives and works at a local garage during the day.   Finding women ready and willing to have sex with him has never been an issue but none of them have ever affected him the way Tamara does.  She might come from a privileged background, but Tamara's past hasn't exactly been rosy.  She needs to break free from the constraints she's put on herself – and what better way to do it than with a smoking hot bad boy!
DIRTY FOR ME is the first title I've read of Jackie Ashenden's but I can guarantee it won't be the last. There's nothing I didn't love about this story… the sex is smoldering hot, the characters are genuinely likeable, and there's a sense that Tamara and Zee are just meant to be together.  Now how is that different than other books I've read… because the overall feel of the storyline is so very raw and emotionally overwhelming that as a reader I just felt a deep overall desire for Tamara and Zee to have a happily-ever-after – even though it seemed like that would be an impossibility.  
Right from the beginning of DIRTY FOR ME I felt like I had to get to know these characters, and not just Tamara and Zee, but their friends too.   There's no shortage of tense moments, surprising twists to the storyline, or downright funny moments, and did I mention the dirty talk?  OMG, Let me tell you, Zee is masterful at naughtiness – and I'm more than a little envious of Tamara!
MOTOR CITY ROYALS trilogy:
DIRTY FOR ME
WRONG FOR ME
SIN FOR ME (releasing March 28, 2017)