Do You Want to Start a Scandal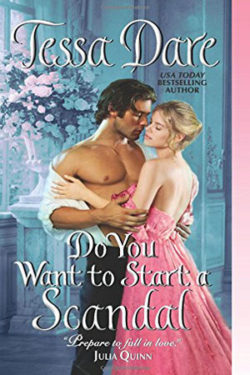 Author

Tessa Dare

Release Date

September 27, 2016

Publisher

Avon

ISBN/ASIN

006234904X

Our Rating

Reviewed by

Dottie
Our Review
Charlotte Highwood's mama has become quite desperate in her attempts to find her daughter a titled gentleman to marry. She even pushed her in front of an eligible man, making her a laughing stock in the local scandal sheet, which gained her the name, The Desperate Debutante. But Charlotte is in no hurry to marry. In fact, she wants to stay untangled and just get through this season. She and her friend Delia have plans to travel through Europe, taking the Grand Tour next season. But first she has to show the Parkhursts, Delia's parents, that she can be trusted to travel with their daughter. Invited to their fortnight-long house party, Charlotte attends with this goal in mind. Knowing that her mama will set her sights on the Marquess of Granville next, Charlotte follows him to the private library, hoping to let him know that she is not interested in marrying him and to warn him of her mother's machinations. But everything backfires when she is discovered there alone with him. Although she claims that nothing happened, a scarlet garter with the initial C, which was left by an amorous couple, is found and everyone believes it is hers.
Piers Brandon, the Marquess of Granville, has spent years in diplomatic appointments overseas. A worthy, educated man, Piers works for the Crown, hiding his true emotions beneath an arrogant demeanor and comes across as being cold. In fact, he is attending the house party to secretly investigate Delia's father, Vernon Parkhurst. Piers ventures to the private library, hoping to find any ledgers or communications that will help him with the task. He never expects to run into Charlotte. But her inability to be anyone but herself is endearing to him. He finds it a rare quality and a very refreshing one. He has no plans to marry for love, and is not quite ready for a wife yet. But their engagement would preserve his sterling façade and ward off questions about his true purpose there.
Piers and Charlotte agree to a private understanding; they will announce their engagement after a fortnight has passed to make it more believable. This also gives Charlotte a little more time to find the owner of the garter and get her off the hook. She is determined that if she has to marry it will only be for love, so she is doing everything to end this before they announce the engagement. But Charlotte is shaken by their first kiss, which makes her knees go weak and makes her want him.
After sharing her plan with Piers, he has his qualms, but finds himself helping her. Working together, Charlotte soon learns another side to him. His ability to pick locks and land punches as well as his sly wit and talent for making her melt with just a kiss seem out of place for a marquess. As she begins to fall for him, she knows she has some decisions to make. Will she risk everything to prove that she has done nothing wrong, or should she give in to the man who has stolen her heart?
A tantalizing tale, DO YOU WANT TO START A SCANDAL, the fifth book in New York Times bestselling author Tessa Dare's SPINDLE COVE series, is a clever, sensual historical romance that will have you eagerly turning the pages. While Charlotte considers her accomplishments to be modest at best, she is kind and smart, as well as a bit sassy. But her true ability lies in her ability to read people. As for Piers, his interactions with Charlotte are helping him to love and find peace once more as she begins to see him as no one else does. The romance and love between them is allowed to grow gradually, but the attraction is there from the beginning. I really liked this couple and enjoyed watching them overcome their differences to be together.
Humor, a bit of mystery, danger, engaging characters, romance and true love in one story; what more could you ask for? In writing this novel, Ms. Dare actually combined two of her series. Piers is a character from her CASTLES EVER AFTER series while Charlotte is from her SPINDLE COVE collection. Although this book can be read as a standalone, I advise reading all of the delectable books in these wonderful series. A consummate storyteller, Ms. Dare has timing and lighthearted banter down to an art form. If you are looking for a truly engaging light historical romance, look no further than Tessa Dare.