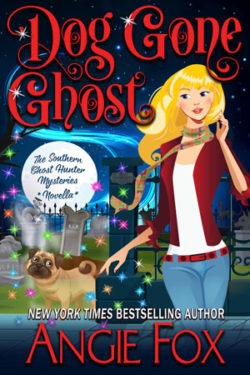 Author

Angie Fox

Release Date

January 26, 2017

Publisher

Angie Fox

ISBN/ASIN

9781939661401

Our Rating

Reviewed by

Raonaid
Our Review
Verity Long is Sugarland's only resident Ghost Investigator. She agrees to explore the strange nighttime happenings at Sugarland Animal Rescue Center. Her ghostly partner's easy compliance bothers Verity. As she inspects the grounds, she discovers the ghost of a nine-year-old boy is responsible for releasing the animals from their pens. Verity offers to help the ghost boy search for his faithful pet dog. Will Verity find the missing Dog without any mishaps? Or will she fall victim to another ghostly escapade?
Verity continues to amaze me with her kindness and generosity despite all the hardships others have hurled at her. I adore Verity's refusal to use her new ability for personal gain, instead, she asks only for what people can afford. She shows her big-heartedness when she aids a young ghost and gives grieving parents closure without expecting any compensation.
I love the subtle changes happening with Frankie. In her unique way, Verity is working her subtle magic touch on the ghostly gangster. He still enjoys the wild life of his era, but when it matters, Verity can count on him doing the right thing.
DOG GONE GHOST is book 4.5 in Angie Fox's light-hearted paranormal series, SOUTHERN GHOST HUNTER MYSTERIES. The only complaint I find in these short novellas is the glaring absence of Verity's sexy sheriff, Ellis.
DOG GONE GHOST is a quick, heart-touching story of ghosts, the living, and pets finding closure. I enjoy these short stories of Angie Fox's. They are great fillers during the wait for the upcoming full-length books while showing the characters evolving.