Don't Keep Silent (Uncommon Justice #3)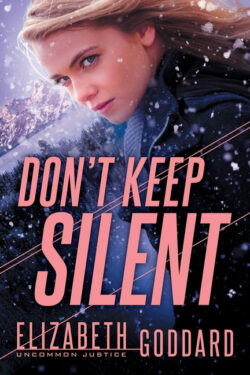 Author

Elizabeth Goddard

Release Date

June 30, 2020

Publisher

Revell

ISBN/ASIN

B0821R7Y2L

Our Rating

Reviewed by

BPoston
Our Review
Rae Burk's sister-in-law is missing. As an investigative journalist, Rae can't help but get involved with the investigation. She knows there is only a short time for a rescue before something horrible happens. She needs help though. Unfortunately, she needs help from a man she unfortunately betrayed while working on a story where he was undercover. Even worse, he got hurt trying to save her life.
Liam's life has changed. He is still recovering from his wounds and isn't certain he can go back to work for the DEA, if he even wants to. He's in Wyoming trying to figure out what he wants to do when the person responsible for messing up his life arrives. Rae has a story to tell, and he can't help but become intrigued. He isn't certain he can trust her, but he can't let her search for her sister-in-law on her own. Especially when it appears she's in danger.
Rae and Liam take us on a ride that is suspenseful and full of twists, turns, and some heartbreak. DON'T KEEP SILENT is a great story! Once you pick it up, you won't want to put it down until the end.