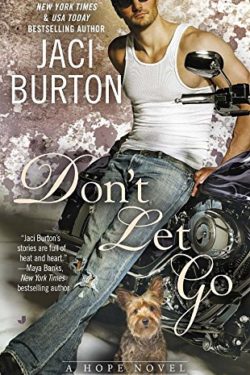 Author

Jaci Burton

Release Date

July 26, 2016

Publisher

Jove

ISBN/ASIN

0515155659

Our Rating

Reviewed by

Dottie
Our Review
Brady Connors is working toward one goal, saving enough money to open his own custom motorcycle paint shop. A while back, he had plans with his brother Kurt to start up a business together. But that ended when he received the call that his brother was dead. Now Brady stays to himself in his own self-imposed exile. He doesn't even take time to date, despite his attraction to Megan Kelly. He doesn't want to think or feel, but he's been thinking about Megan a lot in the last six months, since he escorted her to a wedding.
Bakery owner Megan has not had a lot of love in her life. Her professional parents wanted her to follow in their footsteps and they were disappointed when she didn't. They now live out of state and are not close to Megan. Fortunately, she's had her grandmother, but now she is dead. When all her friends marry and then have babies, Megan wants the same thing for herself, but there is no man in her life. She and Brady attended some events together several months ago, but though she is attracted to him, he has closed himself off from everyone.
When Brody and Megan literally run into each other one day, it leads to a dinner date. Soon, they begin to see each other socially. Brady enjoys their time together, but as things heat up, he realizes he is falling in love with her. However, he fears losing another person he loves like he lost his brother. Does he dare take a chance on love, or will he turn his back on Megan, close himself off again and lose the woman who holds his heart?
A touching, yet very hot, novel, DON'T LET GO, the sixth book in author Jaci Burton's HOPE series, is an emotion-packed, sensual contemporary romance that will keep readers engrossed. The chemistry between Brady and Megan is explosive, but the attraction between them goes beyond the physical. The dog Roxie that Brady finds after a thunderstorm is an endearing addition to the story. Megan and Roxie are the main catalysts in helping Brady get beyond the grief. I could not help rooting for the three of them.
Jaci Burton is a new-to-me author and a wonderful addition to my list of must read authors. Although this book is part of a series, it can be read as a standalone with no problem. However, reading it made me curious about the other couples and their stories, which are disclosed in the previous books in this collection. So it looks like I will be making another trip to the bookstore to stock up. If you are looking for beautifully written books infused with heat, heart and humor, look no further than DON'T LET GO. A must read that will touch your heart!