Don't Look Back (An Unbroken Heroes Novel)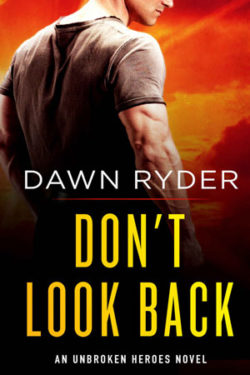 Author

Dawn Ryder

Release Date

August 30, 2018

Publisher

St. Martin's Paperbacks

ISBN/ASIN

B079DV6WZL

Our Rating

Reviewed by

BPoston
Our Review
Shadow Ops Agent Thais Sinclair has only one focus. Her job. She prefers to work alone. Her traumatic childhood has taught her skills that allow her to be a force to be reckoned with. She has the respect of the other members of the Shadow Ops team but only gets involved with them professionally. Her private life is an enigma to them. She believes one thing—you have to protect yourself and love is something you stay away from.
Dunn Bateson is the illegitimate son of a rising star in the political world. His mother, Miranda Delacroix, gave him up when he was an infant, and he was raised by his father in Scotland. Before his father's passing, he learns his mother exited his life to keep him safe from her family, who threatened both him and his father. His feelings for her are confused, and he is trying to understand just what type, if any, relationship he might have with her.
Miranda's life is in danger. Political opponents want her gone. Her popularity is rising, and she is a serious threat to those who want control of how our country is run. The Shadow Ops have become her personal security and have sent Thais to protect Dunn.  However, Thais and Dunn have a personal history that neither have gotten over. Now that Thais is back in his life, Dunn will do whatever is necessary to keep her there while trying to stay safe from those who want nothing better than to take them out.
DON'T LOOK BACK is a great political intrigue. It is sixth in the Unbroken Heroes series and can be read as a standalone. However, I recommend reading the previous stories because the characters and main theme carry through all the books.  
Reading this book was like riding on a roller coaster. You can't wait to reach the end, yet you don't want the ride to end. Dawn Ryder has done a wonderful job of creating rich, well developed characters and the plot line rocked. This is an exciting read.
A Recommended Read