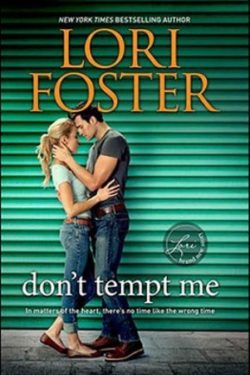 Author

Lori Foster

Release Date

July 26, 2016

Publisher

HQN Books

ISBN/ASIN

9780373789726

Our Rating

Reviewed by

Jo
Our Review
DON'T TEMPT ME (GUTHRIE BROTHERS #1) is a contemporary romance that has a lot of depth to it – both to the storylines and the characters.  Honor, new neighbor to the Guthries – Jason, his brother Hogan and Hogan's son, Colt, was overwhelmed upon meeting them with her best friend, Lexie, at her side since she's a very private person and not very social.  We get to meet several other neighbors on the street, Sullivan who owns an MMA school and is an instructor for all ages but especially for kids at risk and Nathan, the sheriff.    It's heartwarming getting to know each of them as well as the dynamics between them as they get to feel comfortable with each other and become friends and family as they each look out for each other but especially Honor especially with some bad things that have been happening on their street.  Throw in Diesel, a dog for Honor, but cared for by Colt and the others and things get even more interesting.
As we get to know each of them they all have their own quirks and issues but after Honor's initial shock of having friends, being included and neighbors being neighbors we get to see a new side of her.  She and Jason have immediate chemistry which shocks them both but Honor is more than surprised.  Given her upbringing and family life that we get to know little by little, it's not surprising she acts the way she does and wants her independence but Jason and the others are good at always being there and being inclusive but also giving her the space she needs.  Jason is always at her side offering help or ready to pitch in if she wants to try something on her own.  Meeting her family is heartbreaking and gives credence to why she acts the way she does.  Watching her and Jason dance around each other at times but other times be all in with their feelings was portrayed realistically.
There are a lot of emotions involved – tears, sorrow, anger, hurt, fear, acceptance, laughter, caring, friendship, happiness, loving and love.  This is Jason and Honor's story but also Sullivan and Lexie's with all the others as supporting characters including Violet, the owner of Screwy Louie's, a neighborhood eatery.  Lexie and Sullivan are good for a one night stand or several since neither does love but will it be enough?  The plots are interrelated and easy to follow even with so much going on.  The neighborliness and the friendships shine through and it's nice to see.  There is closure and a few happily ever afters in the offing which are nice to see.  I for one can't wait for the next book in the series, WORTH THE WAIT, which will have Hogan and Nathan and their loves and lives front and center.  I hope it is worth the wait since it won't be out for another year.
I've read books by Foster before but mostly her older romances and anthologies she's a part of.  I will be adding many more of her books to my always growing TBR pile.