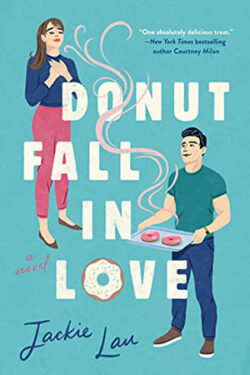 Author

Jackie Lau

Release Date

October 26, 2021

Publisher

Penguin Group, USA

ISBN/ASIN

9780593334317

Our Rating

Reviewed by

Fiona
Our Review
If you like complicated baking, trendy donut flavors, and baking shows, you'll love DONUT FALL IN LOVE. This book is also for you if you've ever wondered how Asian people feel about living in a society where they're always being judged for being "different."
Ryan Kwok is an actor who's back in his native Toronto after doing the promotional tour for his latest movie—a romcom that isn't getting the reviews he hoped for. Instead, his abs are the latest subject of twitter feeds, with his fans raving about them. He moved temporarily back to his hometown because his mother recently passed on, and his sister is pregnant with her first child. His father is still the same distant parent he always was, but now there's no mother to smooth things over between them.
With his emotions in turmoil, he impulsively runs into a donut shop, knocking the tray of two dozen specialty donuts from the arms of the baker/owner. With such a disastrous first meeting, things have to improve, right? Lindsay McLeod has no idea who he is, besides the guy who doesn't help her clean up. But he does pay for the donuts he ruined after she explains how crucial they were supposed to be to her daily earnings. When Ryan's agent offers him the chance to star in a baking show for celebrities, like the kind his mother used to watch, he asks Lindsay to teach him to bake. Since she's off Mondays, that's when they start spending quality time together.
The one thing I didn't like is that neither of them are willing to share their feelings with each other—so their relationship problems are solely their own fault. But some might argue this is true to life. If that's how you feel, this book is for you.