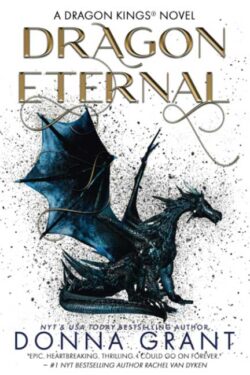 Author

Donna Grant

Release Date

June 14, 2022

Publisher

DL Grant, LLC

ISBN/ASIN

9781942017905

Our Rating

Reviewed by

Raonaid
Our Review
Shaw is the Dragon King of the Sapphires. He and a fellow Dragon King infiltrate Stonemore to learn what they can about the city and its enigmatic ruler, the Divine. Shaw encounters a beguiling woman who tempts him from his mission. He cannot ignore the attraction that ignites between them, but there is more to Nia than he anticipated. She may be the key to getting close to the Divine. Can Shaw convince Nia to help him in his mission? Will he be able to protect her from the threats lurking in Stonemore?
Nia is one of the Divine's favorite courtesans. She must seduce one of the two dragon kings hiding out in the city to gain her freedom. Nia happens across Shaw first, and he helps her escape the priests' notice. She soon discovers that the dragon kings are not the monsters others have painted them to be. Nia realizes who the real villains are, and she vows to aid Shaw in his mission. Can Nia escape the Divine's control? Or will she be another victim to the city's immorality?
Shaw is a man who does not like to converse with others. He believes actions speak louder than words. I love the care and protectiveness Shaw devoted to Nia. He always positioned his body to the crowd to keep her from being jostled or crushed. I just found it so thoughtful and gentlemanly. What I like the most about Shaw is that he did not hold a grudge against Nia once he learned about her association with the Divine. He was angry at first; however, his comrade helped him see the situation she was in.
Nia is a survivor. Her childhood was a bleak one filled with starvation and uncertainty. I like Nia's resourcefulness. She does not rely solely on her looks and her attributes. Nia also uses her wits to succeed in her current profession. She makes the best out of any situation handed her. What I admire the most about Nia is her resolve to help Shaw and his comrades against the Divine and the priests. She no longer wants to ignore their many injustices done to the citizens, especially children with magic.
DRAGON ETERNAL is the fourth book in Donna Grant's latest paranormal romance series, DRAGON KINGS, a spinoff from her DARK KINGS series. I highly suggest reading the prior three books, especially DRAGON UNBOUND. They really set up the setting, a realm like Earth called Zora, and the dark undercurrents plaguing it. Each story hints at the new foe the dragon kings and their allies must face. This book picks up where DRAGON UNBOUND leaves off.
DRAGON ETERNAL is a spellbinding tale of two souls finding love during a chaotic time and overcoming incredible odds to be together. I have a sneaking suspicion on who the author plans to pair Merrill up in the next installment. I cannot wait to see if I'm right!