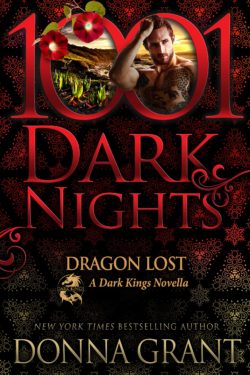 Author

Donna Grant

Release Date

February 25, 2020

Publisher

1001 Dark Nights Press

ISBN/ASIN

B07ZYHGNBT

Our Rating

Reviewed by

Raonaid
Our Review
Royden is the Dragon King of the Beiges. He returns to Greece, his ancestral home, to search for something hidden. Royden did not expect to find his mate instead. He worries about bringing Annita into his world and exposing her to the Dragon Kings' enemies. Will Royden give Annita up to protect her from harm? Or will their love prevail?
Annita Dragoumis is from an old yet prosperous Greek family. As foretold by a seer ancestor, her destiny is to find a dragon. Annita stumbles across Royden while exploring the sea caves near her family estate. What sacrifices will Annita's destiny demand? Can she leave Greece and her family behind to be with Royden?
I cannot remember if Royden made appearances in prior books or not. As with Annita, the story was just too short to properly gauge his personality. I admire how Royden did not want to lie to Annita. He and the Dragon Kings use lies to protect their existence. However, even before Royden realizes Annita is his mate, he finds the idea of lying to her distasteful. What I like the most about Royden is how he gave Annita the space she needed to make her decision. He did not crowd her or demand that she to choose him. Royden understood what Annita was giving up to be his mate.
I really tried to like Annita. However, I felt there was not enough details in the story to get a feel for her personality. I like how Annita took her late grandmother's advice on fear. Instead of allowing fear to dictate her life, she meets it head on. The only nitpick I have with Annita is her entitled attitude. It felt like she thought since it was her destiny to find a dragon, Royden should instantly trust her, especially with Dragon Kings' knowledge.
DRAGON LOST is a novella in the 1001 DARK NIGHTS compilation. It is also book 16.5 in Donna Grant's popular paranormal series, DARK KINGS. The story can stand alone since it does not really advance the series' overall plot. It is an adequate filler to tide fans over until the next upcoming novel.
DRAGON LOST is a short tale about two people finding what they needed when they least expected it. I cannot wait for the next installment in Donna Grant's world.