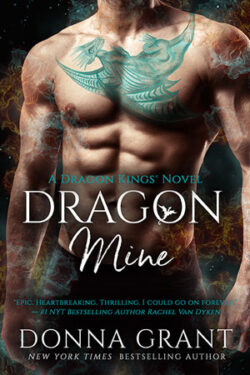 Author

Donna Grant

Release Date

July 12, 2021

Publisher

DL Grant, LLC

ISBN/ASIN

B08NRPT8GV

Our Rating

Reviewed by

Raonaid
Our Review
DRAGON MINE is book two in Donna Grant's new paranormal romance series, DRAGON KINGS, a spinoff from her DARK KINGS series. It is also loosely connected with her REAPER books. I recommend reading the previous series to understand everything that goes on in the plot and the characters involved. The only nitpick I have is that I wish the author explored teh land of Zora a bit more. I guess I got spoiled on Anne McCafferty and Mercedes Lackey's dragon realms that I expected more.
Vaughn is the Dragon King of the Teals. He is Dreagan's solicitor and lawyer. Vaughn cannot forget the woman he met eons ago. He offers to accompany Rhi and Con to Zora—an alternate world like earth but with dragons. There, Vaughn comes face-to-face with his mystery woman. However, she intends to keep him at a distance. Will Vaughn convince Eurwen they belong together? Can he help her and her brother defeat Zora's menacing threat?
Eurwen is the daughter of Rhiannon and Constantine. She co-rules Zora with her twin brother. Eurwen yearns to meet her parents. However, their reunion brings an unexpected guest. Eurwen feels conflicted between her feelings for Vaughn and her duty to Zora. A dangerous threat reveals itself. Will Eurwen deny Vaughn? Can she find a way to be with him? Or will duty stand between their happiness?
I can only imagine the emotional turmoil Vaughn went through on seeing dragons again. However, I admire him for not trying to force a connection with his teals. Vaughn understands that he is essentially a stranger to them. What I like the most about Vaughn is his patience with Eurwen. He waited centuries to find her. Vaughn also respected Eurwen for her responsibilities to the dragons.
I had a difficult time connecting with Eurwen. I cannot pinpoint what exactly kept me from liking her, especially since she possesses a lot of qualities I like. She does remind me somewhat of her mother in some ways. I adore Eurwen's name. It differs from the usual Gaelic names used often in stories. I did have to look up its pronunciation. What I admire the most about Eurwen is her dedication to Zora and the dragons. The dragons' safety comes first to her.
DRAGON MINE is an incredible tale of two people overcoming challenging hurdles to be together. I cannot wait to see what dangers await the Dragon Kings in Zora in upcoming books.
Those with sensitivity to miscarriages and stillborn births should read with caution. It is mentioned and referenced in the story.