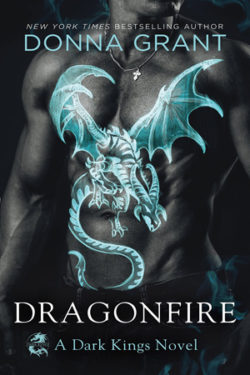 Author

Donna Grant

Release Date

October 30, 2018

Publisher

St. Martin's Press

ISBN/ASIN

1250182875

Our Rating

Reviewed by

Raonaid
Our Review
Roman is the Dragon King of the Light Blues. He offers to help V, a fellow Dragon King, hunt for his missing sword. Roman and V begin their search in Romania's Carpathian Mountains. While there, the duo encounters a Romani brother and sister, who prove instrumental in regaining V's sword. Clues direct the group to Iceland, Roman's homeland and domain. Danger awaits the four. Can Roman overcome the Others' malicious machinations? Will he be able to protect Sabina against their magic?
Sabina is descended from a long line of powerful Romani women gifted with the Sight. She supports herself and her younger brother by making and selling customized jewelry. Sabina remembers the story her grandmother told her about the Dragon Kings. When she and her brother run into two, Sabina agrees to help them search for V's sword. She finds a kindred spirit in Roman, and their attraction ignites. Will Sabina's Sight be instrumental in finding V's sword? Or will she too fall victim to the Others' traps?
I like that Roman insists on helping V find his sword, so he is no longer driven insane by its absence. He cares enough about his friend to keep V from doing something he may later regret while in madness's grip. I adore how conscious Roman is of Sabina's fears. He is always mindful of her limitations, so Roman continuously gives Sabina the option to back out anytime she wants. But, what I like most about Roman is how Sabina's presence helps him finally confront his past. She gives him the resolve to finally lay it to rest for good.
I adore the fact that Sabina is Romani. There are not too many gypsy characters outside of Historical Romance. I admire Sabina's determination to fix the wrongs her ancestors wrought. She may not understand their reasons, yet Sabina trusts her instincts and intuition to correct their wrong. I like how Sabina faces her fears throughout the journey. She refuses to let fear keep her from doing what needs done, regardless of the obstacles and dangers in her path. What I love most about Sabina is her fierce protectiveness toward her younger brother. She knows other people are not as accepting to her brother's handicaps, so she refuses to let people take advantage of him.
DRAGONFIRE is book fourteen in Donna Grant's paranormal series, DRAGON KINGS. It is necessary to read the previous books in the series, especially HEAT, book twelve, to better understand the ongoing plot. I like how the Dragon Kings are learning about their newest foe. I suspect the author plans to divulge little tidbits about the Others in future books, so not to bombard readers with information, which I appreciate. I enjoy learning new info about the enemies alongside the characters in the story.
DRAGONFIRE is a spellbinding tale of two souls' redemption from their past. I love how the author wove new information about the Druids in this book. I also cannot wait to learn more about the mysterious Others, especially their hatred towards Constantine. I hope V's book is next.