Dream Maker (Dream Team 1)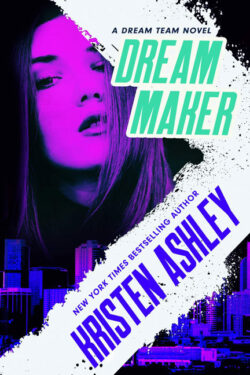 Author

Kristen Ashley

Release Date

May 26, 2020

Publisher

Forever

ISBN/ASIN

9781538733868

Our Rating

Reviewed by

Jo
Our Review
DREAM MAKER is the first book in the DREAM TEAM series and is connected to other series written by author Kristen Ashley.
Although listed as contemporary romance, it has a lot of suspense elements. Evie is a doormat for her very dysfunctional family. Her parents and brother are useless and downright scary, but she and her sister connect and her stepfather seems to understand her better than her parents ever could.
The story is filled with twists and turns. Evie's boyfriend, Danny, is a commando one minute and then a marshmallow the next, but he has his own issues as well. Evie and Danny have never had anyone understand them so well before. I love the way he and his friends (and the Rock Chicks from another of Ashley's series), protect her and the other women she works with. He and his friends also have each other's backs!
There are many interwoven plots going on with a lot of rich characters—all who have their own story to tell. The book ends too abruptly for me, but I enjoyed the epilogue. Each chapter in the story is told by either Evie or Danny, and the chapter titles are terrific. The excerpt in the back of the book introduces the next book in the series, DREAM CHASER, and I can't wait to read more.