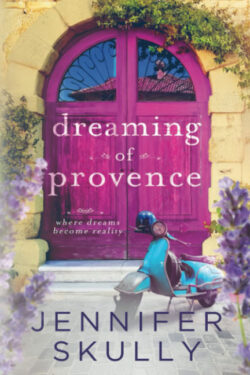 Author

Jennifer Skully

Release Date

June 23, 2021

Publisher

Redwood Valley Publishing

ISBN/ASIN

B0968X3NYH

Our Rating

Reviewed by

book lover
Our Review
DREAMING OF PROVENCE by Jennifer Skully is the first book in the Once Again series This is some of Skully's best work, where she straddles the fence between steamy romance and women's fiction.
Julia Bellerman gave up her career and motherhood to care for the man she loved. Now he's dead, and she's promised him she'll scatter his ashes at a bridge in Provence, France. 
Ryder Wilding was best friends with Will Bellerman, Julia's husband, since college. He stood by Will and Julia as the cancer stole his best friend. Will's last request—go with Julia to spread his ashes in France.
Now Julia has a chance at long, lost love with her husband's best friend, Ryder, her first love. DREAMING OF PROVENCE is a story of love, loss, and a heartwarming happily-ever-after that stays with you long after the end.