Driven to Distraction (Road to Love)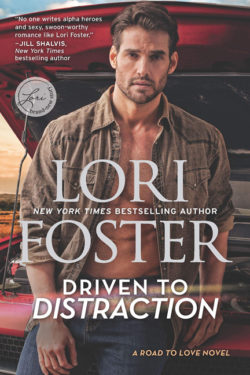 Author

Lori Foster

Release Date

November 20, 2018

Publisher

HQN Books

ISBN/ASIN

9781335041111

Our Rating

Reviewed by

Jo
Our Review
DRIVEN TO DISTRACTION is the first book in Ms. Foster's new ROADS TO LOVE series, and it's vintage Foster, filled with sexy characters, family, and love. There were many burn-up-the-sheet moments, which I wasn't expecting. When uptight Mary meets her new driver for work, Brodie, they are nothing alike, but sparks do fly!
I loved the warmth between Brodie, his mom, brother, and their almost-like-a-sister office worker. Brodie's dog, Howler, was comical in his actions but got serious whenever he smelled danger. Mary and Brodie were brought up very differently even though raised by single moms, since Brodie's dad wasn't in the picture much and his parents were divorced. Mary's mom liked men too much, contributing to Mary's horrible childhood. I liked the way Brodie respected her privacy but knew he needed to learn more about her and her earlier life, giving her someone to confide in, that she might get on with her life.
As we got to know the characters, we realized their depths. There were twists and turns to the story and lots of danger and injuries. The story had a nice flow, but a lot of goons and a pissed off wannabe girlfriend didn't mix at all. I didn't like Mary and Brodie's employer initially because he had no heart, and his money could buy him anything he wanted no matter whose lives he put in danger. Once he recognized some of the uncomfortable situations he was putting Mary and Brodie in, he became more human. I liked the housekeeper and her husband and could all but taste the food that was prepared.
Life in a small town is never easy, but it grew even more complicated with the characters' lives posted on social media. There was nice closure, and I enjoyed the excerpt for the next book in the series, SLOW RIDE. I can't wait to read more when it's released.
Ms. Foster is an author whose books I enjoy, especially when I'm looking for some edginess or heat. I can't wait to see what she pens next.