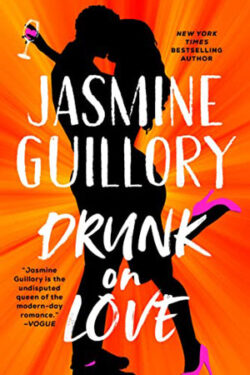 Author

Jasmine Guillory

Release Date

September 20, 2022

Publisher

Berkley

ISBN/ASIN

9780593100882

Our Rating

Reviewed by

Jo
Our Review
DRUNK ON LOVE is set in the Napa Valley, a place I hope to visit one day. Set at the Noble Family Vineyards, co-owned by siblings Margot and Elliot, it is a quick-paced and enjoyable read. Margot thinks Elliot doesn't want her there even though they both inherited from an uncle. She runs the business side of things while he handles the wine-making.  
Enter Luke, a new hire Elliot interviewed when Margot was out of town and who Margot unexpectedly had a one-night stand with the night before his first day on the job.  Let the fun begin!
There is a playfulness as both Margot and Luke try to hide their feelings from everyone around them. But how well are they doing? They do agree that dating while she is his boss is a no-no, but that doesn't mean they don't cross the line a time or two. When Luke has to quit to help his injured mother run her inn, all bets are off.
As they spend more time together, we see the heat increase and their feelings grow.  There are bumps in the road, lots of steamy moments, misunderstandings, secrets and lies along with a romance in wine country. There are many many threads being woven together in the telling of this tale. There is some closure and a potential happily ever after with the epilogue that takes place four months after the story ends, but I wish it had gone on just a little longer. I love the vibrancy of the cover and the silhouettes of Luke and Margot. DRUNK ON LOVE is a terrific romance with well-rounded characters. A must read.