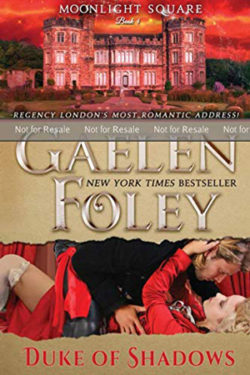 Author

Gaelen Foley

Release Date

May 21, 2019

Publisher

Gaelen Foley

ISBN/ASIN

B07P6S6WPS

Our Rating

Reviewed by

Raonaid
Our Review
Lucas "Luke" Wakeford lives a double life. To his peers, he is the awkward and scholarly Duke of Fountainhurst, yet by night, he is the valiant highwayman Silversmoke. Luke is shocked when his betrothed entreats with his alter ego to find her former beau. Lady Portia Tennesley's resoluteness convinces him to get to know his reluctant bride better. The search for her missing suitor takes a dangerous turn by uncovering dark secrets. Can Luke forsake his need for vengeance? Or will darkness consume his heart forever
Lady Portia Tennesley is the youngest daughter of the Marquess of Liddicoat. She consents to the match her parents have arranged for her. However, before she weds, Portia intends to learn what befell her former suitor. She turns to Silversmoke, the enigmatic highwayman who champions the helpless, for help. Portia soon finds herself torn between two men: the dangerous highwayman and her studious betrothed. Will Portia's love sway Luke away from his revenge? Or will his hatred stand in the way of their future?
Luke is my favorite kind of hero. He is a tortured soul haunted by his parents' violent murder. I admire the outlet Luke found for his darker, baser emotions. Instead of wallowing in grief and self-pity, he helps those who cannot fight to find peace and resolution. I identify with Luke's feelings about crowds. I too feel self-conscious and uncomfortable around a large number of people. What I like most about Luke is his honor. He refuses to start his new life with Portia based on lies and deceptions.
Portia steadily grew on me. At first, she comes across as too self-absorbed for my tastes, caring only about her peers' opinions. However, my feelings changed as the story progressed. I like how Portia empathizes with Luke once she learns about his traumatic past. She sees past his façade to the man within. What I admire the most about Portia is how she refuses to abandon Luke to his darker emotions. Instead, she appeals to his humane side to fight the encroaching darkness from consuming him fully.
DUKE OF SHADOWS is book four in Gaelen Foley's historical romance series, MOONLIGHT SQUARE. I like how the couples from the previous books make appearances throughout the story. It is nice to see how their lives continue. What made the book fun is Lord Sidney. His antics made me laugh.
DUKE OF SHADOWS is an evocative tale of love overcoming retribution. I hope the author considers writing Lord Sidney and Major Carvel's book. Those two men definitely deserves a happily-ever-after.