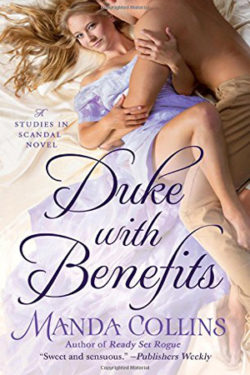 Author

Manda Collins

Release Date

June 27, 2017

Publisher

St. Martin's Press

ISBN/ASIN

978-1-250-10988-0

Our Rating

Reviewed by

Vanessa E.
Our Review
A woman who loves to solve mysteries and the man who loves her is at the heart of Manda Collins latest novel, DUKE WITH BENEFITS, the second installment of her Studies in Scandal series. Lady Daphne Forsyth is a woman who has devoted her life to the studies of mathematics, and whose forthright ways have caught the attention of his Grace, the Duke of Maitland, Lord Dalton Beauchamp, after her shared inheritance of his aunt's estate. 
His aunt left a mystery for Lady Daphne to solve along with a secret request that Daphne include Maitland in her efforts to solve it. When someone from her past arrives with his own sights set on solving the same mystery, the race is on to find the treasure first.
The beauty of Dalton's and Daphne's attraction is that they learn to accept each other for who they are. Their blossoming feelings are a delight to read, and Ms. Collins brings all the romance and sensuousness to tantalizing fruition. Her gifted storytelling has me eager to discover her other novels and leaves this reader eager for more!
RJ RECOMMENDED READ