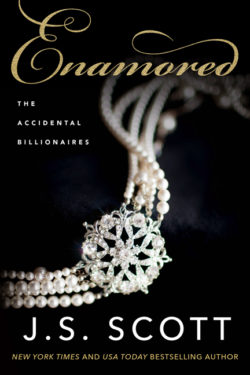 Author

J.S. Scott

Release Date

October 15, 2019

Publisher

Montlake Romance

ISBN/ASIN

9781542015394

Our Rating

Reviewed by

Jo
Our Review
ENAMORED is a nice continuation of THE ACCIDENTAL BILLIONAIRES series, and I'm looking forward to reading more about the Sinclair family and their loves. The siblings had a rough upbringing and don't think they know how to love someone other than family, but they've been proven wrong each time. When they fall, they fall hard! This is Seth and Riley's story, and it is scorching hot!
Seth is all work and no play but likes to take breaks and get out of his office. His go-to place is the Coffee Shack. He meets his nemesis, Riley, there, and she actually comes to his rescue. It's Riley's place to pick up her chai mocha lattes, and when they meet there a second time, things get pretty heated.
Riley and Seth are adversaries over a development he wants to build on the beach, which happens to be a nesting place for an endangered species. The story has dark undertones due to their angst-ridden childhoods, but there is still a playfulness and a love of family that shines through.
Riley is her own woman, fighting her demons with therapy, and has the loving support of her three brothers whom she doesn't see often enough. She's turned her back on the moneyed world she grew up in, for good reason.
As we get to know the characters of Seth and Riley little by little, we realize how much they hide from others. They are good for each other as they open themselves up to friendship and more. The sibling banter and interaction for both characters really makes the story shine. The story wraps up nicely, though a few loose ends could possibly lead us to the next books.
I look forward to reading more of J.S. Scott's books and have added some to my always growing TBR pile.