Entangled (The Accidental Billionaires)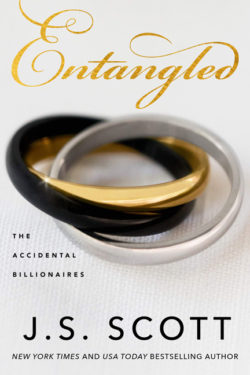 Author

J.S. Scott

Release Date

April 30, 2019

Publisher

Montlake Romance

ISBN/ASIN

9781542042277

Our Rating

Reviewed by

Jo
Our Review
ENTANGLED is the second book in the ACCIDENTAL BILLIONAIRES series, and it did not disappoint. It's a second chance romance, and I couldn't wait to see what would happen next!  We're back with the California Sinclairs. This is Aiden and Skye's story and it's told by each of them a chapter at a time. Fast-paced with lots of steamy moments both between the sheets and other locations, ENTANGLED begins with a prologue set nine years before and set the stage of what is to come.
Aiden and Skye went their separate ways nine years before, but not for the reason either of them thinks. They have lots of time to dwell on their separation during the ensuing nine years that they're apart. Skye has an eight-year-old daughter and is now divorced from her ex-husband, who, along with his family, has ties to the Mob. When they're all jailed, she finally returns to Citrus Beach where she grew up. There Skye and her daughter Maya start their new life.
When Skye's path crosses with Aiden's, she's not ready for the reception she gets. The chemistry is still there, and sparks do fly!  But Skye feels nothing but anger toward him.
As Aiden and Skye take one step forward and several back over and over again, she's not ready for his reaction when she drops a bombshell in his lap. The story from there takes off, tensions high. I love the interactions between Aiden and his siblings and finding out how their lives have changed. Maya is a breath of fresh air and grounded, considering how she and her mom lived prior to returning to Citrus Beach.
The story is passionate, filled with arguments and reconciliation. As Aiden and Skye get closer and form a family with Maya, there are still some underlying currents of emotion. There is some closure with the epilogue, but it didn't go far enough for me. The chapter before the epilogue where Seth is front and center seems like a hint of what's to come in the next book in the series, ENAMORED, due out later this year. I can't wait for this series to continue. I look forward to reading more of J.S. Scott's contemporary romances