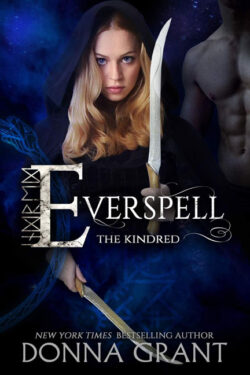 Author

Donna Grant

Release Date

December 21, 2020

Publisher

DL Grant, LLC

ISBN/ASIN

B0849VRTFG

Our Rating

Reviewed by

Raonaid
Our Review
Brom is half-Varroki. He has carefully kept his heritage a secret. Brom intends to find the blonde-haired, blue-eyed warrior woman who haunts his dreams. Luckily, fate leads him straight to her. However, Brom and Runa must evade not only witches but nymphs too. Can Brom trust Runa with his secret? Will he choose Runa over the Varroki?
Runa is half nymph. She is a bounty hunter, who specializes in witches and nymphs. While stalking a bounty, Runa learns about her heritage and her family. She sets off to find and help her twin and grandmother. However, Runa encounters a mysterious and handsome Scot. Can Runa find her family? What perils will she and Brom face?
Brom is the perfect match for Runa. The two share a lot in common, both being loners much of their lives. I adore Brom's thoughtfulness toward wildlife and their natural habitat. When he and Runa needed shelter, Brom chose not to kill the animal to take its home. Instead, he chose to share the cave while respecting the animal's distance. What I like the most about Brom is his common sense towards magic. He only used his magic when it was absolutely necessary.
Runa steadily grew on me. I like how she knew when to stand firm and when to capitulate. Runa did not let stubborn pride keep her from accepting aid when it was needed. What I love the most about Runa is her dedication to family. Regardless of their separation, she still wanted to help her grandmother and sister. Runa understood that circumstances beyond their control kept them apart.
EVERSPELL is book five in Donna Grant's paranormal-historical romance series, THE KINDRED. It is necessary to read the previous books to understand the overall plot, especially EVERNIGHT, book four. Also, characters and couples from the prior novels make appearances throughout the story, or they are mentioned.
EVERSPELL is a captivating tale of fate leading two kindred souls together to fight for the greater good. I cannot wait to see what else the author has in store with this series.