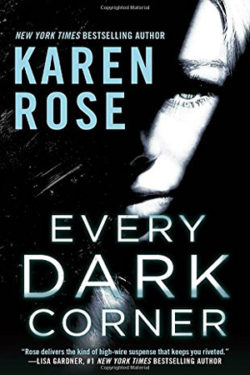 Author

Karen Rose

Release Date

February 7, 2017

Publisher

Berkley

ISBN/ASIN

9780399583063

Our Rating

Reviewed by

Kate Curran
Our Review
EVERY DARK CORNER by Karen Rose was an edge-of-your-seat read. The characters are compelling, some extremely dark. All of them are carrying their own baggage, which makes them likable and very real as a group of FBI agents try to catch a child pornography and human trafficking criminal.
The author did a good job of not using extremely graphic detail, but enough to keep me turning pages. She also created a very dark criminal who was considered a pillar of society.
You can't help but root for the main characters Decker and Kate, who've faced their share of grief. It's fascinating to see how deeply they care about each other and the victims they are trying to protect.
My one complaint was the vast number of characters. I had a hard time keeping up with all of them and found it frustrating at times to try and keep track of them all.
This was a fantastic read that kept me up late at night because I couldn't put it down. If you're looking for a great suspense, read Karen Rose's EVERY DARK CORNER.