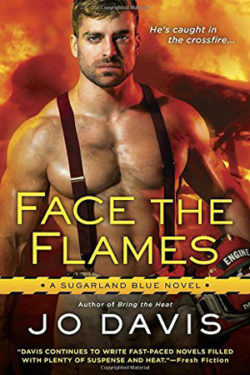 Author

Jo Davis

Release Date

March 7, 2017

Publisher

Berkley

ISBN/ASIN

B01HYUVL0G

Our Rating

Reviewed by

B Poston
Our Review
Sugarland firefighter/paramedic Clay Montana has spent the last year recovering from a near fatal accident. The ambulance he was driving was struck broadside by another vehicle. He is battling depression, trying to get his body back in shape, praying he can get his life back to do the job he loves.   
Detective Melissa Ryan hasn't been back to Sugarland since she was a teen. After her parents' death, she went to live with her aunt. She considered that a blessing because the uncle who tried to get custody of her is a criminal and truly evil man. Now, as an adult and police detective, she wants to put him behind bars for his crimes.
Clay and Melissa cross paths after he witnesses an armed robbery at a local convenience store. Helping the injured clerk makes Clay feel alive again and more determined than ever to get back to work. Meeting the hot, sexy detective makes him feel a whole lot more. He hasn't been involved with any woman in a long time, and this one definitely makes his pulse race.
Melissa feels an instant attraction to this sexy Good Samaritan. Obviously he is recovering from a serious injury, but it doesn't lessen from the attraction. As she learns more things about him from her colleagues, she becomes intrigued and wants to get to know him a whole lot more.  
As Clay and Melissa begin to explore this new relationship, dangerous things begin to happen around them. Melissa suspects her uncle is responsible. However, if the FBI has been unsuccessful for years trying to take him down, can she and Clay stay safe and bring her uncle to justice?  
FACE THE FLAMES is action-packed and filled with hot lovin'. Watching Clay and Melissa fall in love is a joy. This book is a continuation of the Sugarland Blue series, and it does not disappoint. Each of the books in this series are stand-alone but it is nice to revisit characters from previous books to see how their lives are going. Jo Davis keeps her characters real, and I can't wait to read what she comes up with next.
RECOMMENDED READ