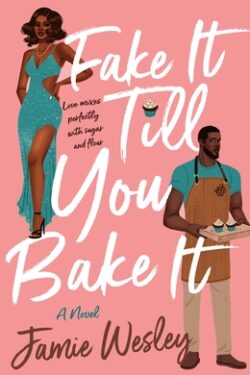 Author

Jamie Wesley

Release Date

June 21, 2022

Publisher

St. Martin's Griffin

ISBN/ASIN

9781250801852/B09CNGDY76

Our Rating

Reviewed by

Michele Rioli
Our Review
Have snack on hand when reading, FAKE IT TILL YOU BAKE IT. I was drooling while reading about a cupcake-baking football player and a reality TV star who fake date while saving a cupcake bakery in this fabulously fun and refreshing, lusty story. Donovan Dell is a ruggedly handsome, tense football player who owns a cupcake bakery, Sugar Blitz. He encounters a ravishing reality TV star, Jada, when she comes into his bakery for a job after turning down a marriage proposal on national TV. She comes back home to recoup her life. A reporter spies them together, and assumes they are dating. Heck, why not, especially since Donovan's business is hurting financially.
Donovan and Jada start fake dating and take advantage of the increase in customer sales to save Donovan's fledgling bakery. They sizzle together but fire non-stop barbs at one another. Secretly they have crushes on one another. Donovan only has eyes for Jada and she is battling feelings of amore whenever she is with him. Do the two stubborn lovebirds untangle their feelings and realize its love?
FAKE IT TILL YOU BAKE IT is a sassy and seductive story. Ms. Wesley's novel is smart, intriguing and sizzles from start to finish. A bombshell reality TV star, Jada, and a macho, football player, Donovan, clash heads and turn up the heat in a cupcake bakery in this sparkling tale. Infused with touches of seduction, brisk style, and steamy situations, you will savor this story from start to finish. A wonderful cast of characters along with a plausible plot, the author is on the winning track! Go ahead and indulge, FAKE IT TILL YOU BAKE IT is perfect afternoon entertainment!