Falling for the Under-dog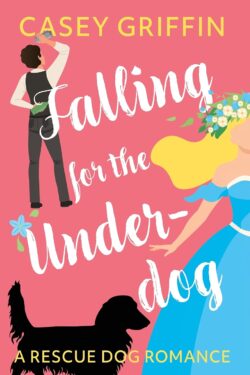 Author

Casey Griffin

Release Date

September 21, 2021

Publisher

Charming Frog Publishing

ISBN/ASIN

B09CYBM2HT

Our Rating

Reviewed by

Raonaid
Our Review
Addison Turner is a dog stylist and doggie fashionista. She plans to present her doggie fashion line at a mixer for the Western Dog Show. Addison hopes to meet her Mr. Perfect there, also. However, things take a drastic turn when thieves dog-nap her show-dog models. Wherever she goes, more high-end dogs disappear. Addison turns to the other person being framed for the crime to clear their names. Can Addison and Felix catch the culprit before the dog show? Will she realize Felix is her true Mr. Perfect?
Felix Vaughn works the dog-circuit as a bartender. He plans to use his extra wages to put a down payment on a bar. Felix encounters Addison at the mixer for the Western Dog Show. When she asks for his help, he turns down her tempting offer. However, Felix changes his mind when he is implicated on the latest dognapping. Things heat up between them as he and Addison try to clear their names. Can Felix convince Addison he is the better man? Or will the situation ruin his chances at purchasing his bar?
Generally, I am not fond of the pink-wearing and overly optimistic heroine types. However, I grew to love Addison from book one, PAWS OFF THE BOSS. I adore her close friendship with Piper and Zoe. I only wish this book had more interaction between the three women like the first book. My only nitpick about Addison is how she wants the movie type happily-ever-after. She has this mental image of how her Mr. Perfect should be and looks like. That blinds her to the perfect person right in front of her.
Felix is such a dream!  He is a nice change-of-pace from the usual hero types found in all romance genres. Felix is a hardworking, single father doing the best he can. I love Felix's wicked sense-of-humor. He is not afraid to be openly frank with Addison, especially regarding his interest in her. What I adore the most about Felix is his sense of responsibility towards his daughter. Everything he does is to benefit her. Felix puts his daughter's needs before his own.
FALLING FOR THE UNDERDOG is the second book in Casey Griffin's dachshund-themed series, A RESCUE DOG ROMANCE. Its former title was BEAUTY AND THE WEINER. The author revamped the story since she received the rights back to the three-book series. I like the subtle changes she made. There are more updated movies and actors mentioned in the story compared to the 2017 release.
FALLING FOR THE UNDERDOG is a charming and entertaining tale that proves what we want is not always what we need. I cannot wait to read the changes the author made for Zoe's book!