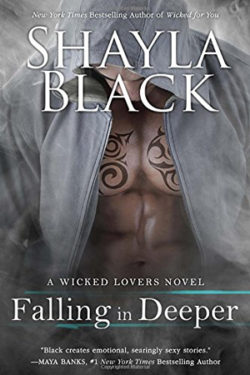 Author

Shayla Black

Release Date

July 5, 2016

Publisher

Berkley

ISBN/ASIN

9780425275474

Our Rating

Reviewed by

Jules
Our Review
After being on the run for a few years for witnessing a crime she had no control over, Lily has temporarily settled in at Club Dominion. Nobody knows her past and she can pretend to be someone else for a little while, but she won't allow herself to get close to anyone. People she lets in wind up dead, and she can't stand to have that on her conscious. Yet when her past comes barreling out of nowhere, she turns to the one guy she probably shouldn't be involved with.
Psychologically and emotionally, Lily Taylor has a lot of issues she hadn't dealt with in her past. She's leery of trusting others, skittish of men, and running for her life. Stone is aware of her past but is interested in the total package she represents–a smart, sexy, and funny woman. Her habit of overthinking every situation was a little annoying, yet it also gave Stone a reason to break down her defenses and show her she still retained an inner core of strength she needed to tap into to finally start living.
Stone Sutter may be an ex-con and hacker extraordinaire, but he's still an alpha protector; he also retains a core of common decency under a veneer of snark after serving time. In a short span of time, Lily has become his whole world in ways he never expected and he will do everything he can to help her escape her past..even if it means letting her go…
Lily and Stone's story was a fantastic read! For me FALLING IN DEEPER was infinitely more emotional and suspenseful than previous stories. And the humor… The Yoda reference in the middle of a scene was one of my favorite parts! A sexy man who is a Star Wars nerd?! Yes please! I was sucked in from beginning to end, I enjoyed their story that much. I would definitely recommend it!