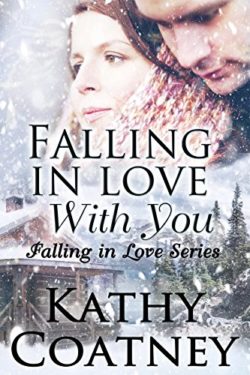 Author

Kathy Coatney

Release Date

February 2, 2018

Publisher

Windtree Press

ISBN/ASIN

9781947983236

Our Rating

Reviewed by

Jo
Our Review
An emotional read from start to finish, FALLING IN LOVE WITH YOU is the second book in the FALLING IN LOVE SERIES. There were lots of tears and sadness but laughter and happiness too on this roller coaster ride of friendships, family, hardships, illness and love. We are taken from the present to the past over and over again, and we learn about the childhood friendships of Abby, Jon, and Noah.
Abby was the newcomer to Paradise Falls, Idaho when she comes to live with her grandmother after her father dies. She became fast friends with Jon and Noah, who were already best friends and widened their circle to include her. They did everything together and, while Abby loved Jon, Noah loved Abby. Feelings weren't reciprocated but Abby ended up with Jon anyway. The trio's friendship transcended from childhood into adulthood.
Their friendships continued to grow, and even when they sometimes stagnated their connections were still felt. Everyone around them knew how they felt about one another except those involved. Abby's grandmother, Gram, was all-knowing, and everybody loved her. Noah comes from a big family who are always there for each other. Their home is always open to everyone. Jon only had his father, who hasn't wanted anything to do with him for years and has his own demons to live with. Jon and Abby had the deaths of their mother and fathers that weren't there for them in common.
There are twists and turns to the story both in the present and the past, and I was caught up in it all. The descriptions of the lands, the lake and their homes made me feel like I was there. The characters all had a depth to them, and I liked that we were brought up to date with Ethan and Clare from FALLING FOR YOU…AGAIN, the first book in the series.
The relationships, connections and friendships were real and definitely not sugarcoated! All the characters, no matter how small their role, had an impact on the story – even the raccoon! There is a nice happily-ever-after, and there was the closure I was looking for. I look forward to reading the last book in the series, FALLING IN LOVE FOR THE FIRST TIME.
Coatney is a new-to-me author only having read the first two books in this series. I look forward to reading more of her books if this is her caliber of writing.