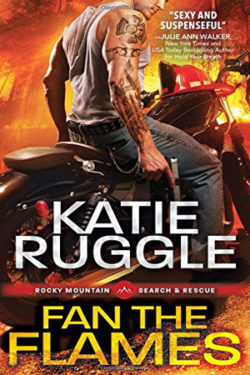 Author

Katie Ruggle

Release Date

June 7, 2016

Publisher

Sourcebooks

ISBN/ASIN

978-1492628200

Our Rating

Reviewed by

SJ
Our Review
In FAN THE FLAMES, author Katie Ruggle brings us a sexy firefighter with motorcycle club ties, a stubborn yet vulnerable heroine, and a mystery that deepens with complex layers as the heat between the protagonists builds. Ruggle had done it again with a thrill-ride to the end, and I was on the edge of my seat wondering who's behind the murders, as well as waiting for the chemistry between the leads to explode.
The backdrop of the unforgiving cold of the Colorado mountains adds to the drama the Search and Rescue team (of which Ian, the hero, is a part) constantly live with. The setting itself is a character, and Ruggle does a fantastic job of making you feel the shivers, as if you're actually there.
The mystery that started in HOLD YOUR BREATH, book one in the Rocky Mountain Search and Rescue series, continues here, but it's not necessary to read the first book to understand the second. FAN THE FLAMES easily stands on its own.
The heroine, Rory, has been raised by survivalist parents, and her view on the world is different and unique. I loved that Rory runs a gun shop, and that she does some "questionable" business in the back room. She's an atypical heroine who isn't waiting to be saved but does her own rescuing.
Until Ian makes it plain she doesn't need to do everything herself. Ian's introduction in the first book in this series made me want to know more, and as I read about him, I was fascinated by his depth of character. His inclusion in the motorcycle gang made sense, and his layers of feeling really made him stand out as a hero–in addition to his killer good looks. Looks that intimidate the heroine, so more conflict was built into the relationship.
The hero and heroine took their time getting together, but the heat continued to build–hence the perfect titling of FAN THE FLAMES. As the romance blossoms, the mystery deepens. Who killed that man found in the icy water? Who is framing Ian for the deed? And what about the break-ins at Rory's shop? Who's behind it all?
This series just keeps getting better. It started with HOLD YOUR BREATH and continues with FAN THE FLAMES. Even more exciting, GONE TOO DEEP releases August 2. It's a story I cannot wait to read!
For outstanding romantic suspense, strong characters, and a fabulous plot that keeps thickening, read Katie Ruggle's FAN THE FLAMES and prepare to get burned by an amazing story.