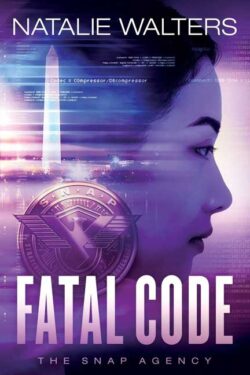 Author

Natalie Walters

Release Date

May 3, 2022

Publisher

Revell

ISBN/ASIN

978-0800739799

Our Rating

Reviewed by

book lover
Our Review
FATAL CODE by Natalie Walters is book 2 in The Snap Agency series.
After Elinor Mitchell's beloved grandfather dies, she inherits his notebooks, unaware she has highly sensitive information on a project he worked on. Possession of the notebooks has put a target on her back.  
SNAP agent and former Navy cryptologist, Kekoa Young is tasked with searching for the person selling secrets from Lepley Corp, where his neighbor, Elinor, works. He's shocked to discover the incriminating emails are coming from Elinor's work computer. Since she's his neighbor, he's assigned to follow her, but Kekoa likes her and can't believe she's capable of espionage.
As Elinor follows the clues her grandfather left behind to a top-secret nuclear project, Kekoa has to stop her. When she learns he has been spying on her, she's crushed. But danger is closing in on Lepley Corp and her grandfather's project, and she's caught in the crossfire. 
This book was a slow-build suspense, but even so I loved the story and couldn't put it down. I recommend this book.