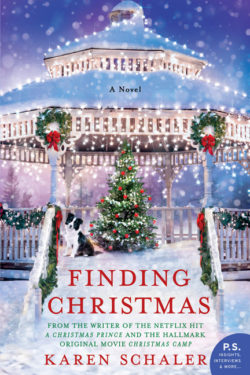 Author

Karen Schaler

Release Date

October 15, 2019

Publisher

William Morrow

ISBN/ASIN

9780062883711

Our Rating

Reviewed by

Jo
Our Review
FINDING CHRISTMAS reads like a Hallmark movie, and that could be because the author, Karen Schaler, is a writer of television Christmas movies as well as Christmas novels. The story has a nice flow to it with a lot of heartwarming moments, with Christmas traditions at the forefront of giving families in the small town of Christmas Point.
The families feed those in need, shelter the homeless and help those less fortunate to have a merry Christmas. I loved the thought behind the Christmas Spirit Wreaths as well as the scavenger hunt that Emmie put together even if it didn't turn out as planned.
Emmie loves all things Christmas and starts decorating right after Thanksgiving. She's the director of her family-owned community center, which was founded by her parents, and she's always doing charitable deeds. She goes all-out for Christmas since it helps keep her close to her parents, who died in a car crash. Her boyfriend, Grant, isn't into Christmas at all and doesn't even make the time to be with her on a romantic getaway she had planned.
Emmie happens across Sam when she's trying to buy the Christmas Spirit Wreath that he, unbeknownst to her, special ordered. Sam wants it because it reminds him of his sister, who passed away from cancer the year before. Sam and Emmie cross paths again, and an attraction is there.
This story encompasses Christmas with a vengeance. I loved getting to know the characters as well as the descriptions of Christmas Point, a small town full of shops devoted to the holiday.
There were references to Christmas movies and carols as well as many traditions. The romance is more than satisfying, and I would love to return to Christmas Point to meet up with the characters again (hint, hint). The ending is wonderful, as are the Gingerbread Snowballs Cookie recipe and Christmas tree tips (which were at the back of the book.)
I've read all three of Ms. Schaler's Christmas stories and look forward to reading more of her books.