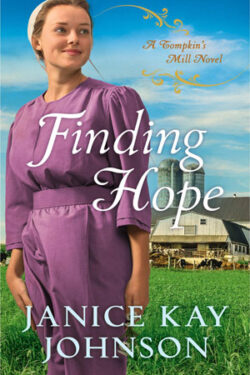 Author

Janice Kay Johnson

Release Date

June 29, 2021

Publisher

Berkley

ISBN/ASIN

9780593198001

Our Rating

Reviewed by

Jo
Our Review
FINDING HOPE is the third and final book in the TOMPKIN'S MILL series by Janice Kay Johnson, and I didn't want it to end. I savored every word in this rich story of how the worlds of the Amish and Englischers once again come together in unexpected ways. This is Gideon and Hannah's story, but it is so much more as we're transported to the small town of Tompkin's Mill. I love how Gideon's children were such a large part of the story.
The characters have a real depth to them. Hannah's life was shaped through the selfishness of her mother's actions, and Hannah was heartbroken to hear the lies her mother told throughout her life. Hannah's relationship with the family she never knew was heartwarming but heartbreaking for all that they missed out on. Her mother was hard to like, given her self-centeredness.
It was pleasurable to meet up with characters we've met before in the previous two books, though this one stands alone well enough. The story involves secrets and lies, the church, counseling, and family. There are multiple storylines woven seamlessly together. The descriptions of the food were rich in detail, and a lot of Deitsh words sprinkled throughout (clearly explained) added another layer of realism to the story.
FINDING HOPE is filled with introspection and the strength of their faith. There is ultimately love and a happily ever after, but I wish the story had gone on just a little longer.
I've read all the books in Ms. Johnson's TOMPKIN'S MILL series. Her writing reminds me of both Amy Lillard and Rachel J. Good, two authors who are my go-to for Amish stories no matter where they are set. Give her books a try if you haven't already.
A Recommended Read!