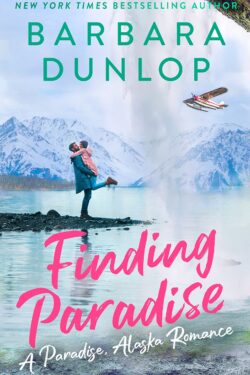 Author

Barbara Dunlop

Release Date

November 30, 2021

Publisher

Berkley

ISBN/ASIN

9780593332986/B08XQ453WR

Our Rating

Reviewed by

Michele Rioli
Our Review
Does a big city girl meet the man of her dreams in, FINDING PARADISE, the second book in the, A Paradise, Alaska, romance series? Marnie Anton, a lovely L.A. Lawyer, impulsively hops on a plane with a select group of ladies looking for love in Alaska. Marnie's friend Mia starts a match-making group for the men in Paradise. Everyone needs somebody, right?
Well, turns out, Marnie has a secret admirer as soon as she hops off the plane.
Conrad "Cobra" Stanford notices the beautiful redhead among the group of women. Cobra, a calm, muscular dude and ace mechanic/pilot for the airlines, thinks the romance project is ludicrous. However, after spotting the pretty lady, he is thinking differently. Upon meeting Marnie he can't stop thinking about her.
Marnie is equally smitten with Cobra. He oozes sex appeal and revs her engines. She isn't in the market for a man but there's something special about Cobra that makes her heart race. Can it be that they are the perfect match?
FINDING PARADISE is bursting with sex appeal, hormones flying, and crackling humor that will have you falling in love with Ms. Dunlop's new story. Marnie is a feisty lady and is not put off by big, manly men. Cobra is my new leading man. I love the tall, strong, silent, protective type. They get me every time! The author knocked it out of the park with this fantastic sequel to the Paradise, Alaska series. Definitely get yourself a copy because FINDING PARADISE is hot stuff!