First Comes Scandal: A Bridgerton Prequel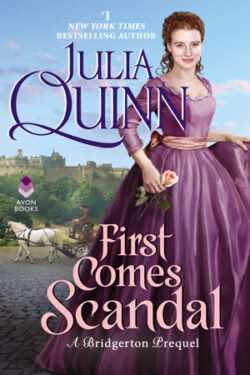 Author

Julia Quinn

Release Date

April 21, 2020

Publisher

Avon

ISBN/ASIN

978-0-06-295616-3

Our Rating

Reviewed by

Diana Mcc
Our Review
FIRST COMES SCANDAL by Julia Quinn is a Bridgerton prequel and a standalone book. This story was a lovely, genuinely funny romance between two people who have known each other their entire lives.
Georgie is kidnapped by a conniving, bumbling suitor. She manages to escape without the kidnapper laying a finger on her or even stealing a kiss. Still, she is considered ruined and has lost all hope of marrying.
Nicholas Rokesby, Georgie's neighbor and life-long friend, is directed by his father to step up and marry Georgie to save her reputation from scandal. Shocked and dismayed, he must decide what to do. He has been studying to be a doctor in Edinburgh, days away from his and Georgie's hometown.
They are friends, and neither has thought of the other as a marital partner. However, both of them showed a level of respect and caring for the other. It was so satisfying to see their their love blossom despite their shyness. There are sweet to steamy scenes.
They do have obstacles to overcome. In the end Georgie is stitching up wounds right beside her doctor husband.
An enjoyable story that is fast paced, humorous, and with vibrant, endearing characters. Readers of historical fiction are sure to enjoy FIRST COMES SCANDAL.