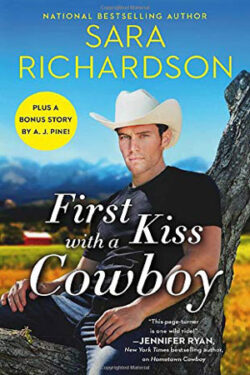 Author

Sara Richardson

Release Date

May 19, 2020

Publisher

Forever

ISBN/ASIN

9781538717158

Our Rating

Reviewed by

Jo
Our Review
FIRST KISS WITH A COWBOY is the first book in the SILVERADO LAKE series, and I can't wait for more! The characters are portrayed realistically with the right amount of drama.
Jane writes romance novels set in the mountains in the west, and with a cowboy front and center! She writes under a pseudonym, but how long will that last when she's back in her hometown? Toby is a bull rider who's been injured and returns to his hometown to heal.  He takes a job at a local ranch, being more of a handyman not expecting Jane to return home where he's now working. They have a history from a shared past and some definite chemistry.
There is a nice flow to the story. Their friends' wedding activities are in the forefront since Jane is the maid of honor and Toby is the best man. There are beautifully portrayed scenic descriptions that made me feel like I was there. FIRST KISS WITH A COWBOY is filled with family, friends, and a deep and loving romance. There is nice closure with the epilogue, and I look forward to reading more books in this series.  Ms. Richardson is fast becoming a favorite author.
Since this is a Forever publication, once again there's a bonus novella. COWBOY TO THE RESCUE by A.J. Pine is the prequel to the MEADOW VALLEY series. It's a small town with a big heart and lots of characters that I enjoyed getting to know. The story held my interest, and there was a lot of story packed into it. There are tragedies that seem impossible to overcome, and some heartening healing. The story is sexy and loving, and Ivy and Carter are wonderful main characters. An enjoyable novella worth the read.