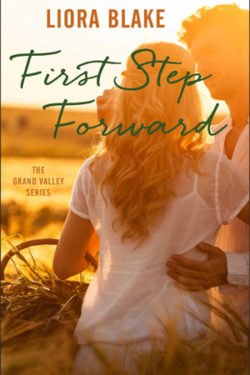 Author

Liora Blake

Release Date

November 29, 2016

Publisher

Pocket Books

ISBN/ASIN

9781501155116

Our Rating

Reviewed by

Jo
Our Review
FIRST STEP FORWARD is book one in the GRAND VALLEY SERIES. It is fast paced and pairs Cooper, a pro-football player, with Whitney, who owns an organic fruit orchard that she is close to losing due to foreclosure. When they first meet, it seems to be a one-time thing since it's in a drugstore of all places. Will they meet again, and if so, where, given their different backgrounds and the worlds they live in?
Cooper is a gentleman through and through, except when he gets caught up at bars with his teammates and the women that are looking to score. He and Whitney have an odd chemistry, especially since she doesn't follow football and doesn't know who he is. They seem to fulfill something in the other that they're not even aware they're looking for, is missing, or needed. They get each other like no one else does and are there a lot for each other. Watching their friendship grow was refreshing, but his cursing could have been ratcheted down a notch. They sometimes take one step forward and two back, but at other times seem to be on the same page. The characters have a depth to them that I wasn't expecting.
The story revolves around family and friends, a big city and small town, fans, and a growing romance. The people in Hotchkiss are there for one another, and it's exactly what Whitney needs when she comes across the town and the orchard for sale. There is somewhat of a happy ending but not the closure I was hoping for.
Blake is a new-to-me author, and I look forward to reading more books in this series.  Book two, SECOND CHANCE SEASON, won't be out until May, but I look forward to catching up with characters I've already met in book one and seeing where Cooper and Whitney go from here. I plan to add Blake's TRUE series to my always growing TBR pile.