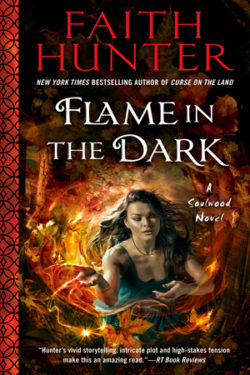 Author

Faith Hunter

Release Date

December 5, 2017

Publisher

Ace

ISBN/ASIN

978-0451473332

Our Rating

Reviewed by

SJ
Our Review
The third book in Faith Hunter's amazing Soulwood series, FLAME IN THE DARK, excels at ramping the tension of a mystery while the fascinating protagonist, Nell Ingram, continues to shine.
Nell Ingram is an agent with PsyLed, a government agency that investigates the paranormal, the agents of which each have their own abilities. Nell is tied to the earth, in particular, to her land, Soulwood. Through it she can sense things, and the land takes care of her by healing her when need be.
When a powerful senator is nearly killed, Nell's team is called to investigate. But things are not as they appear, and their assassin seems to be able to disappear at will. Intriguing, diabolical, and complex, the plot flows from one point to the next as Nell and the team put the pieces of this puzzle together. 
The secondary characters continue to make this a series worth reading, and the budding relationships Nell has with her Psyled "family" and herself makes for captivating reading. 
Then there's the matter of a problem on Nell's land, one she's been putting off fixing for too long. And her relationship with a certain werecat develops, but not fast enough for me.
FLAME IN THE DARK can be read as a standalone but is best enjoyed as the third in this incredibly rich and detailed world. Kudos to Ms. Hunter for getting better with each book, and I can't wait to see what happens next. 
A HIGHLY Recommended Read