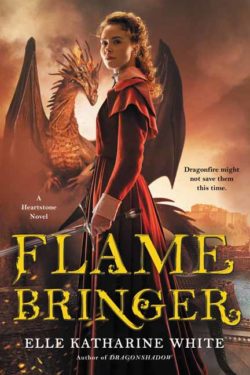 Author

Elle Katharine White

Release Date

November 12, 2019

Publisher

Harper Voyager

ISBN/ASIN

978-0062747983

Our Rating

Reviewed by

Raonaid
Our Review
Alastair and Aliza Daired, along with their dragon partner, Akarra, brave a blizzard to return home. While away, they discover an ancient being and its intent on bringing war to their kingdom. A devastating secret surfaces and threatens House Daired. Aliza and Alastair race to the capital to warn the king and the people of the upcoming war. Treachery is afoot, and the duo face many obstacles in reaching the king. Will Alastair be strong enough to save Arle? Can Aliza figure out what their ancient enemy truly is? And what price will each pay to save their kingdom and their loved ones?
Alastair has really grown since HEARTSTONE, book one in the series. I love how Aliza's pacifist nature tempered his haughtiness and outlook on the world. Alastair better understands a non-fighter and commoner's point-of-view. I like how Alastair slowly adapts to the many changes thrown his way. It takes him time to adjust and accept his new limitations. What I adore the most about Alastair is how he willingly includes Aliza in decisions and the fight against their unknown enemy. In DRAGONSHADOW, book two, he was reluctant to bring Aliza along on an assignment. However, that assignment taught Alastair what an asset his wife can be.
Aliza also demonstrates such amazing growth since book one. I admire how her change in status never once went to Aliza's head. Instead, she is still learning how to maneuver in her husband's world without sacrificing her sense of self. I like Aliza's inner strength. She realizes that no one can help her overcome the distressing experiences she endured in book two. Aliza wants to come to grips at her own pace. What I love the most about Aliza is how she proves that heroes are not always warriors. That sometimes, to defeat evil, one must rely on a non-combatant, especially one who is not afraid to sacrifice everything for the people they love.
FLAMEBRINGER is book three in Elle Katharine White's fantasy-romance series, HEARTSTONE. The trilogy does start off as a fantasy style PRIDE & PREJUDICE. However, the author does a brilliant job of evolving the storyline away from the classic and making it her own.
FLAMEBRINGER is a magnificent conclusion to a spellbinding series. I am sad that this is my last adventure in Arle. I cannot wait to read more of this author's future works.
A recommended read.