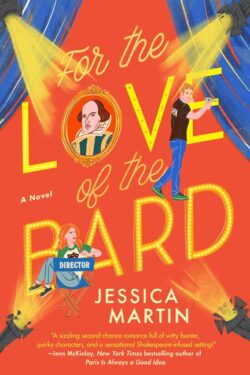 Author

Jessica Martin

Release Date

June 28, 2022

Publisher

Berkley

ISBN/ASIN

9780593437438

Our Rating

Reviewed by

Michele Rioli
Our Review
Will there be love in FOR THE LOVE OF THE BARD, Ms. Martin's spirited ode to Shakespeare? Ridiculously cute Miranda Barnes is a famous young adult writer who goes home to enjoy her town's annual Shakespearean festival and to finish her YA fantasy book. However, her mom has serious health issues and Miranda helps out. Plus, Miranda bumps into Adam, the boy who broke her heart in school. Then, she is roped into directing a festival play. Geesh! What happens next?
Problems arise and Miranda does her best to deal with it. Miranda needs to work on her book, but with issues popping up all over the place, time is really scarce. Then, Adam, a veterinarian who is a handsome hunk, reenters her life. They go together like a hot fudge sundae delight! Adam is absolutely nuts about her dog too. Miranda is cautious though, should she risk her heart again? Will they love each other with so much of their heart that none is left to protest, as Shakespeare said?
FOR THE LOVE OF THE BARD is all things Shakespeare with a dollop of romance and tender heart. Witty repartee, offbeat, enjoyable characters, obstacles galore, and an enchanting plot with an adorable dog, won over my heart big time! Miranda searches for happiness while dealing with life's problems. I wondered if her and Adam would ever find their way to love. Ms. Martin uniquely handles difficulties Shakespearean style. Wait until you see what happens! Oh my gosh, what utter chaos! FOR THE LOVE OF THE BARD is uniquely rom-commish, I guarantee!