Forbidden Warrior - Renegade Lords series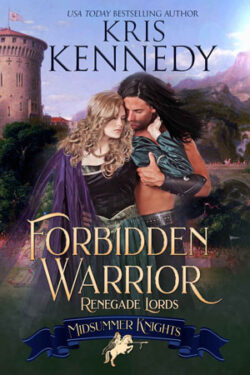 Author

Kris Kennedy

Release Date

April 14, 2020

Publisher

Kris Kennedy

ISBN/ASIN

B0851TPCJC

Our Rating

Reviewed by

Raonaid
Our Review
Máel is an Irish outlaw. He delivers traitorous messages between Baron Ware and the rebels planning to overthrow King Richard. The dishonorable baron double-crosses and leaves him for dead. Máel's revenge hinges on the Englishman's daughter being offered as the tourney's prize. However, Cassia threatens to soften his stony heart. Can Máel get back what was stolen from him? Or will he give it up for Cassia?
Lady Cassia d'Argent is the only child of the Baron of Ware. Her father intends to wed her to the tournament's champion. However, a roguish stranger in armor ruins those plans. While with Máel, Cassia learns the full truth about her dastardly father. She also learns something about herself. Can Cassia help Máel retrieve what was stolen from him? And what price is she willing to pay?
I have always had a fondness for Irish characters and Gaelic names. I am curious about Máel's pronunciation. Máel is a man shaped by the hardships fate threw at him and his brother. I adore that Máel never dissuaded Cassia from learning how to whittle or shoot a bow. He patiently taught her both, even though the two pastimes are considered unladylike. What I love the most about Máel is his treatment of Cassia. He never belittled Cassia like her father or other suitors did. Instead, he encouraged her to be herself.
Cassia steadily grew on me. At first, she came off as too whimsical and weak-willed. However, the further I read, I realized Cassia is just an unfortunate victim of the era and a dissolute father. I empathize with Cassia's desire to marry. She craves stability, protection and respect, things she has not had with her father. What I like the most about Cassia is that she holds no illusions about her father's person. She knows what kind of man he is and all the immoral deeds he has committed.
FORBIDDEN WARRIOR is book two in Kris Kennedy's medieval romance series, RENEGADE LORDS, and the first book in her brand-new series, A MIDSUMMER KNIGHTS ROMANCE. This story can easily stand alone. Unfortunately, I have not read KING'S WARRIOR, the first book in the RENEGADE LORDS series. I plan to remedy that when I am able because I love this author's Irish characters.
FORBIDDEN WARRIOR is a romantic tale of two people overcoming their social class to be together. I cannot wait to see what the author has planned for Fáelán and Rowan.