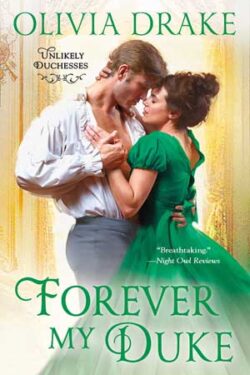 Author

Olivia Drake

Release Date

December 31, 2019

Publisher

St. Martin's

ISBN/ASIN

978-1-250-17439-0

Our Rating

Reviewed by

Diana Mcc
Our Review
FOREVER MY DUKE by Olivia Drake is the second installment of Olivia Drake's Unlikely Duchesses series. I enjoyed this book because the characters were unusual.
Hadrian Ames, the Duke of Clayton, needs a bride and believes he will honor his dead father's wishes by wedding the daughter of his guardian—a mere child of eighteen years. He hasn't seen her in twelve years.
On the way to his guardian's estate, he meets and gives a ride to an independent American, Natalie Fanshawe. She is traveling with Leo, a boy of about six. Natalie made a promise to her dying friend to deliver the boy to his English grandfather.
As it turns out, Hadrian's guardian and Leo's grandfather are one and the same.
Hadrian soon realizes he does not want to wed a young girl, but instead the American, Natalie, a mature twenty-four year old. Thus begins a clash in cultures. Natalie has no use for the ton or balls, and even though her father was from England, she has no respect for the classes and refuses to bow to the peerage. She only wants to deliver Leo and return to America to establish a school for children on the frontier.
As Natalie and Hadrian spend time together, they start to see past their differences and slowly start falling in love. Their love is a slow burn, more on the sweet side.
I loved all the characters in this book. The evil relatives, Natalie, Hadrian, and Leo are fantastic. The plotting is good and the pacing perfect. FOREVER MY DUKE is an entertaining read!
Recommended Read